Commercial Space For Lease, Ukiah, CA
Leasing Office/Retail Space at 101 North State Street
Welcome to the webpage for the 101 North State Street Building.
This building is a two story, three-unit, retail and office development in the heart of Ukiah, California. It is located directly across the street from the Mendocino County Courthouse, at the corner of North State Street and East Perkins Street. This is one of the busiest and most visible corners in all of Downtown Ukiah. Perkins Street is an exit from the US 101 Freeway.
The ground floor contains two units that are suitable for a retail use or offices. An office is the preferred use on the upper floor. The entrance to the main ground floor unit is at the corner of State and Perkins Streets. The smaller ground floor space faces towards North Main Street. The upper floor is accessed off of East Perkins Street.
Plenty of parking is available in our private parking lot next to the building. That parking lot has driveways on both North State Street and North Main Street.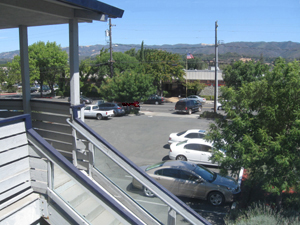 Because amenities such as restrooms are shared in the common area, we use the "rentable square feet" method of calculating our commercial lease rents at this building. (For a definition of "rentable square feet" and examples of how "rentable square feet" is computed, please go to the Definition of Rentable Square Feet in our Glossary of Leasing Terms.)
The Downtown area of Ukiah is a unique district of government offices, financial institutions and quality restaurants. Across the intersection from the building is the Ukiah Brewing Company & Restaurant, which has an eclectic menu that changes seasonally based on what local farmers, ranchers and fishermen provide. A half block to the west is Schat's Bakery and Cafe, known for its sandwiches, breads and other baked goods. It is less than two blocks to Saucy, Downtown Ukiah's Italian Restaurant, Patrona Restaurant and Lounge, whose menu changes frequently based upon the catch from the gardens, ocean and local purveyors, Oco Time, a Japanese Restaurant and Sushi Bar, Romi's BREW N BBQ, a popular place featuring an open pit wood fire, and Eddie's Cocina, a wholesome Mexican restaurant serving downtown Ukiah.
Other eateries within walking distance include Dora's Gourmet Cafe (formerly the North State Cafe), whose menu reflects a great mix of long-standing customer favorites and new and unique Brazilian dishes, Quiznos, where toasting is a wake-up call for flavor, Villa Del Mar, an authentic Mexican restaurant serving a variety of seafood and traditional recipes, and Round Table Pizza, which rolls its dough fresh, from scratch, every day.
The building's frontage on North Main Street is just a few feet from a major link to public transportation. Five bus routes of the Mendocino Transit Authority stop on North Main Street, at the corner of East Standley Street. These include the #7, the #9 weekday and the #9 weekend (local service), the #20 (running between Willits and Ukiah), and the #75 (operating between Ukiah, Gualala and Fort Bragg). For a detailed map showing the bus routes that stop at the North Main Street location click here.
The building's suites are individually addressed. The address, approximate rentable square footage, and the availability of each suite, are as follows:
• 101 North State St., Suite A (unit on the corner), 1,972± rentable square feet (LEASED);
• 101 North State St., Suite B (faces parking lot), 713± rentable square feet (LEASED);
• 107 East Perkins St. (upstairs), 1,436± rentable square feet (LEASED).
Available space can often be found on Southport Land's Loopnet.com webpage.