Scholarships and Other Charitable Gifts
Scholarships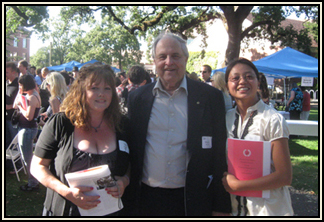 2011 Circle of Honor reception. Pictured are
two recipients of a Southport Land and
Commercial Company Scholarship with
Dr. Henry A. Alker III, who was
Chairperson of the Company.
Throughout the years Southport Land and Commercial Company has given high school and college scholarships in communities where the Company has substantial property holdings.  In 2009, the Company established "The Southport Land and Commercial Company Scholarships" at Santa Rosa Junior College in Santa Rosa, California, with the first scholarships being awarded in the 2010-2011 academic year. The amounts of these scholarships and the fields of study in which they are awarded periodically change. As currently set-up, these scholarships assist students in three different fields of study: Real Estate; Small Business Management; and Civil Engineering. The scholarships are awarded annually at the Circle of Honor reception on the SRJC campus, and are administered by the Santa Rosa Junior College Foundation.

Other Charitable Gifts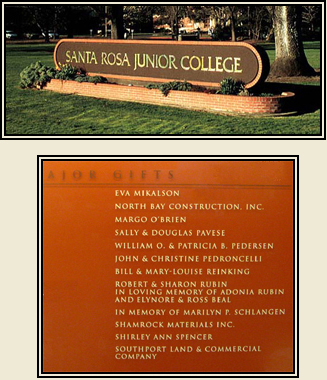 In addition to scholarships, Southport Land has supported the Santa Rosa Junior College with cash gifts. In recognition of those gifts, the College has named a group study room in the Doyle Library after the company and placed the company's name on the list of major gifts.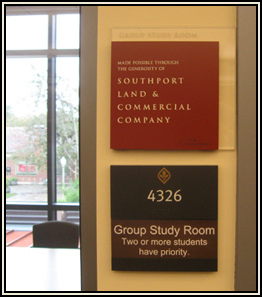 List of Scholarship Recepients
Below is a list of persons who have received a scholarship from Southport Land and Commercial Company since the 2010 - 2011 academic year. Learn what they are doing now by clicking on the link after their name.
Name of
Recepient

---


Link

---

Awarded in
Academic Year

---

Sandra Aguayo
2010 - 2011
Lan Cao
2010 - 2011
Joleen Beaston Forwood
2010 - 2011
Mathew Dudley
2010 - 2011
Stephen Gilbreath
2010 - 2011
Kristen Manning
2010 - 2011
Caitlin O'Rourke
2010 - 2011
Ellen Ragan
2010 - 2011
Nakry Sam
2010 - 2011
Thomas Zedrick
2010 - 2011
Shelli Allen
2011 - 2012
Maria Damaz
2011 - 2012
Jessica Garrett
2011 - 2012
Xintong "Julia" Li
2011 - 2012
Timothy Parker
2011 - 2012
Carmen Ponce
2011 - 2012
Linda Zumaeta
2011 - 2012
Joanna Jones
2012 - 2013
Trisha Patel
2012 - 2013
Rosemary Rang
2012 - 2013
Savada San
2012 - 2013
Joseph Vera
2012 - 2013
Donald Bamberg
2013 - 2014
Brett Clarke
2013 - 2014
Trisha Patel
2013 - 2014
Lori Sparling
2013 - 2014
Benjamin Crane
2014 - 2015
Jiyoung Alice Park
2014 - 2015
Benjamin Swaffar
2014 - 2015
Natalie Tietzealy
2014 - 2015
Zachary Clark
2015 - 2016
Sarah Lohner
2015 - 2016
Nichole Moscoso
2015 - 2016
Dion Arcado
2016 - 2017
Cynthia Escutia-Silva
2016 - 2017
Noe Espinoza
2016 - 2017